The last few years have been increasingly rocky for publishers. They face growing ad blocking adoption, increasing fraud rates, and diminishing returns as Facebook and Google reportedly take 99% of all new digital ad revenue.
This is driving some companies to offer alternative sources of revenue to publishers. Google is rebooting Contributor, a micro-donation service that was discontinued in January 2016. Patreon doubled since last year to 1 million patrons and 50,000 creators. In 2016, Brave introduced anonymous Bitcoin micropayments to publishers. Brave is now planning to integrate the Basic Attention Token (BAT) as the foundation of a new, blockchain-based digital advertising platform.
The range of alternative contribution methods make this an exciting time in the evolution toward a better web.
Google Contributor
The news of the Google Contributor re-release follows months of speculation about a potential ad filtering feature in Chrome. Google now confirms the latter will be available in January 2018.
Google's Contributor allows users to purchase a monthly pass that replaces ads with microdonations for participating publishers. Ad replacement is a key feature, and as such, exploring Contributor may offer a preview of Google's vision for replacing ad revenue.
News of both of these Google releases was too exciting to pass up, so we gave Google Contributor a test drive.
Google Contributor Test Drive
Registration and setup
Users begin the process here: https://contributor.google.com/v/marketing
The Contributor pass begins with a $5.00 payment.
Users select sites from participating publishers to replace ads with micropayments.
Micropayments are deducted from the $5.00 payment for each page view.
Rates per page vary from publisher-to-publisher. For example, Business Insider UK charges $0.04 for each page view, while other publishers charge $0.01. The majority of publishers tested charge $0.01 per page view.
Contributor only works when the user is signed into the Google account used for registration.
Experience
We ran through several Contributor publishers: Business Insider UK, Popular Mechanics, Twitchy and WWG.
We observed mixed results, with ads displaying on Business Insider UK and Twitchy, but not on Popular Mechanics and WWG.
On Business Insider UK, the large horizontal and small rectangular above-the-fold display ads no longer showed up with Contributor enabled. However, we did observe Taboola ads mid-fold, and Sailthru ads below-the-fold.
| | |
| --- | --- |
| Taboola | Sailthru |
On Twitchy.com, we consistently observed ads displaying above and below-the-fold on the homepage and article pages.
| | |
| --- | --- |
| Twitchy.com, above-the-fold | Twitchy.com, below-the-fold |
This was surprising because the Contributor service advertises that the micropayments replace the ads.
The network traffic appears to show that Contributor doesn't block any of the Google ad and tracking requests for Business Insider UK or Twitchy.com.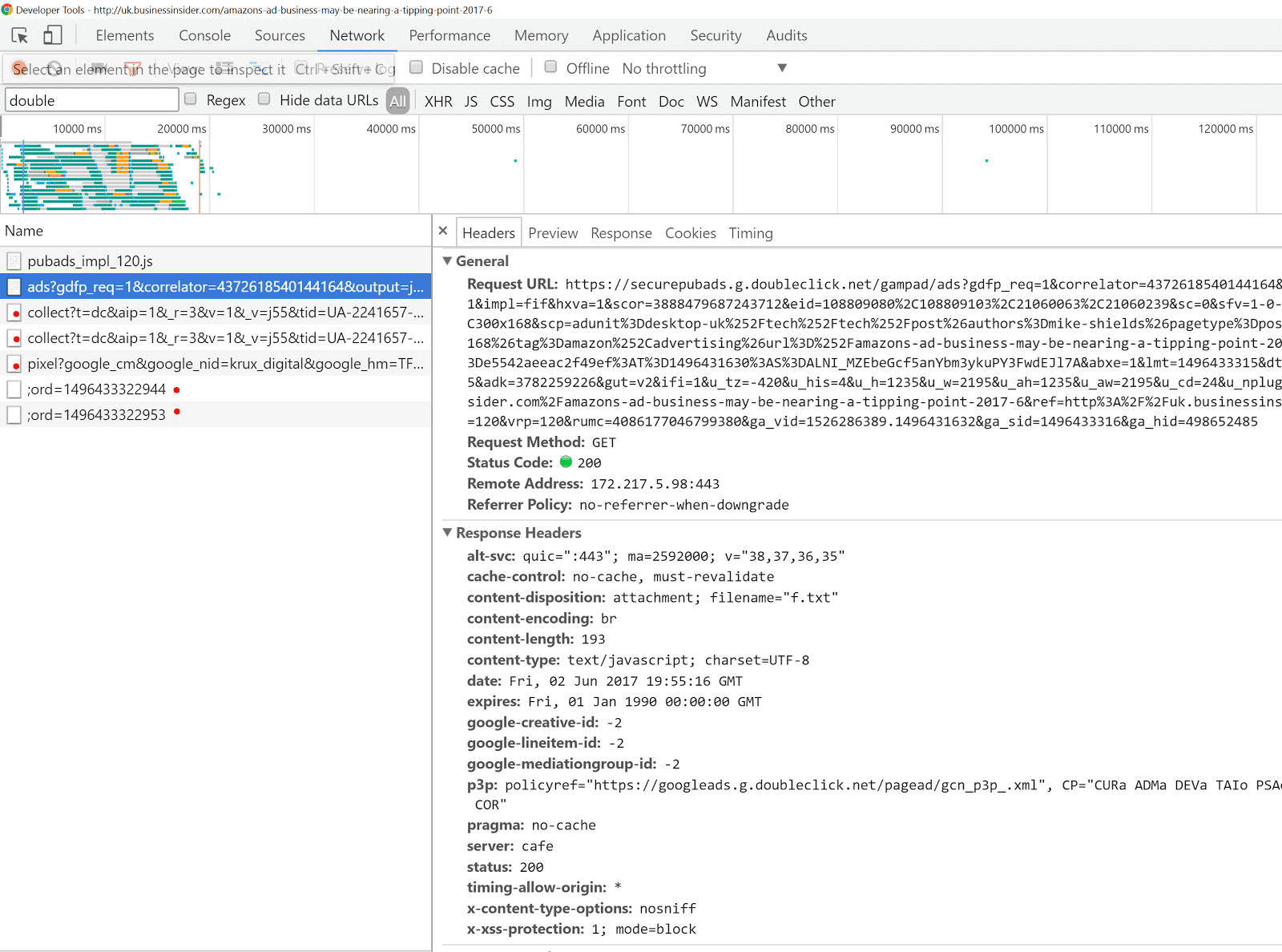 The Google Publisher Tag (GPT) ad tag library was successfully requested.
The GPT ad request was sent and received by the ad server.
DoubleClick Campaign Manager (DCM) requests were made, including a partner request to Krux.
While the DoubleClick for Publishers (DFP) ad server did not send a creative response for the ad request, tracking cookies were set by the request.
It's important to note that none of these ad and tracking requests were blocked.
A closer look at ad-related sources reveals many additional 3rd party ad and tracking requests were established: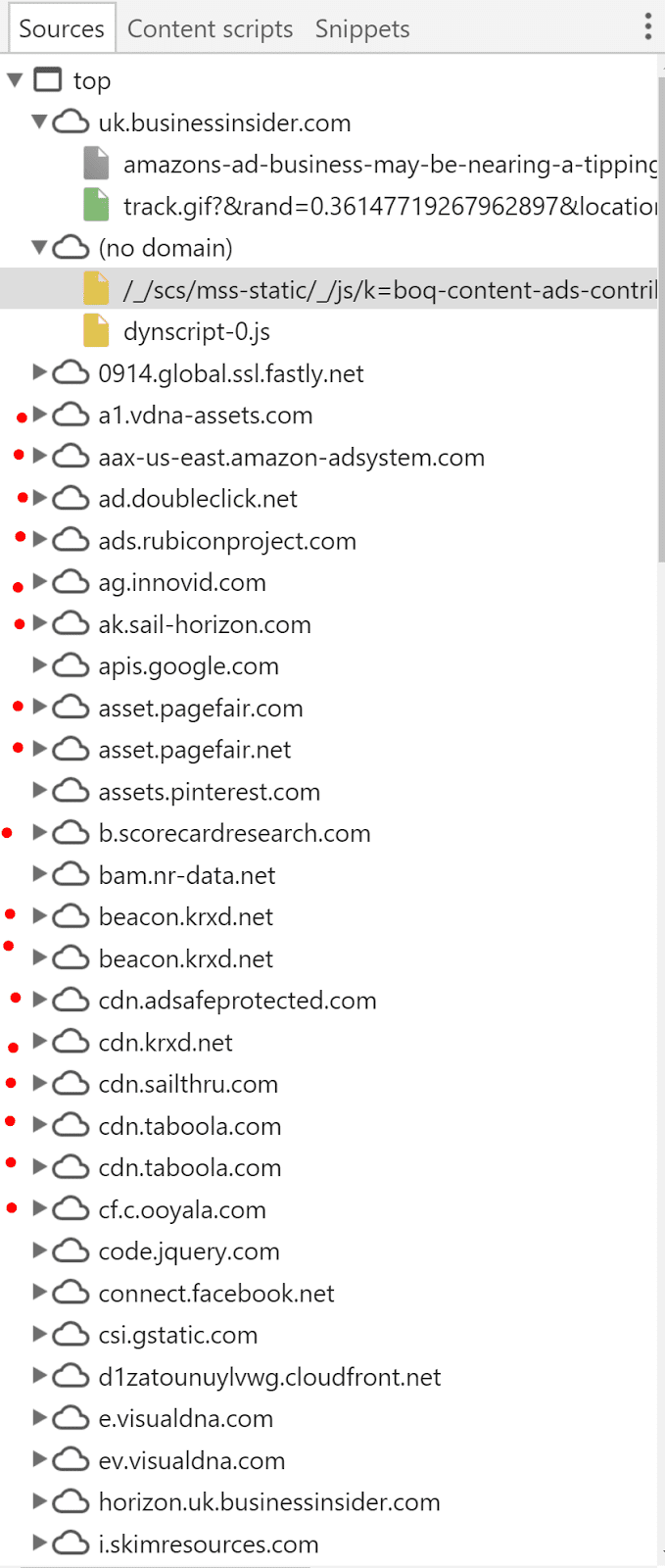 The 3rd party ad and tracking requests were also made on Popular Mechanics and WWG.
| | |
| --- | --- |
| Popular Mechanics | WWG |
The Contributor service is not really "blocking" ad or tracking requests.
Despite paying for ads to be replaced with microdonations, Taboola, Sailthru and other common 3rd party display ads were observed on two of the four publisher domains tested.
With Contributor not blocking ad and tracking requests, Google and 3rd parties continue to collect user data for profiling, re-targeting and other purposes.
Contributor appears to be largely cosmetic, continuing to allow significant ad displays.
The Brave Approach
Brave Payments
The Brave Payments ledger allows users to support publishers with anonymous contributions as they browse. It was introduced in 2016 and is currently available in the desktop browser as an option. User privacy and anonymity are a priority. Ads and trackers are blocked by default, thereby cutting off malvertising threats flowing through ad exchanges.
Brave Payments uses a technology called Anonize, which utilizes a special branch of "Zero Knowledge Proof" cryptography for anonymous-but-accountable transactions.
Users can apply additional customization to their contributions as they choose, "or can simply let Brave browser code (only on your device, no server tracking) handle the distributions.
Users can pin sites to include them in Brave Payments as they browse, setting specific amounts for each.
Any publisher can receive contributions, they simply need to complete a verification process to receive the anonymous contributions.
Thanks to encryption in the browser, Brave's servers never see user data in the clear. Anonize protects against donation lists becoming fingerprints.
BAT Platform
The Basic Attention Token (BAT) provides a natural fit for supporting publishers, as the purpose of the token is to attribute value to attention. The BAT Platform will absorb the Brave Payments ledger, which will migrate from Bitcoin micropayments to BAT microdonations in the near future. The BAT Platform will also introduce new features and settings, paving the way for an exciting and broad range of potential applications. The BAT also incentivizes users to join the platform by granting BATs from the user growth pool, and rewarding BATs for their attention. The BAT will let users support sites via anonymous token-donation automation. Initially, the BAT Platform will be integrated within the Brave browser. Long-term, we intend for BAT to be utilized in other apps and browser extensions.
The Differences Matter
Google Contributor and Brave Payments provide two very different approaches to publisher contributions.
Google Contributor removes some ads — but not all — while allowing for Google's DoubleClick and other 3rd party ad and tracking requests to collect user data.
Brave blocks ads and 3rd party tracking requests by default, preventing those parties from collecting user data from those requests. Brave Payments and the imminent BAT Platform allow users to anonymously contribute to publishers that they choose to support. Users do not log into Brave servers, and Brave cannot see or collect user data thanks to cryptographic protocols.
Both options are new, and are alternatives to the current free-for-all of digital advertising. The choice for users is stark: one option, Google Contributor, continues data tracking at the expense of user privacy, data plan, and battery life. The other option, Brave, gives users control of their data and privacy without compromises. The introduction of the BAT will also reward users for their attention with a revenue share per ad impression or action.